Padel World Press .- Without place to doubts talk about Starvie is to make it one of the great references in the world of paddle tennis and season after season, it continues to improve its products and the benefits they can offer with them.
Step by step, with very clear ideas, the signature of the star has been building a serious prestige within this wonderful sport thanks to having its own factory in Azuqueca de Henares, from which all its 'weapons' come out, to its careful Marketing and Communication strategy and, of course, to the figures that are part of the spectacular team with which they compete in the World Padel Tour Circuit.
And is that StarVie can boast of having in its ranks highly talented players such as, for example, Matías Díaz, Franco Stupaczuk, Cristian Gutiérrez, Bea González, Ceci Reiter, Carolina Navarro or Javi Garrido who have given positive feedback to an already top-of-the-line product.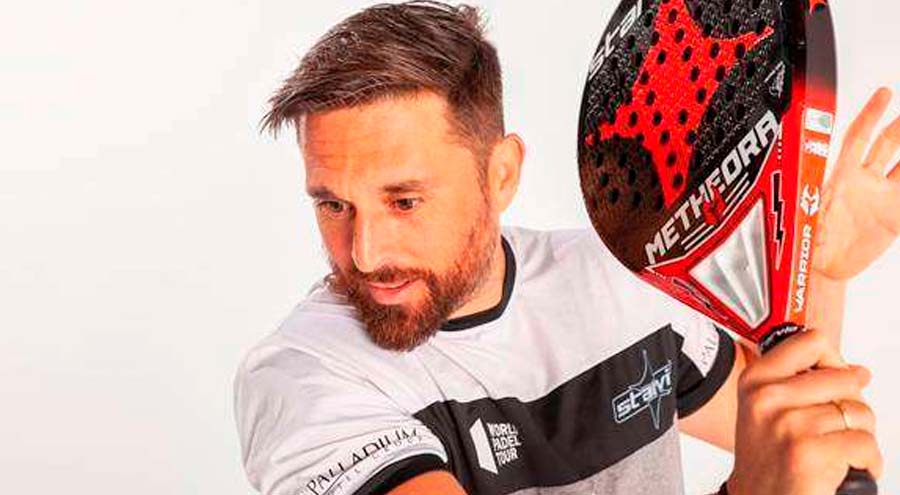 Star Vie Metheora: Pure versatility
When we refer to StarVie It is not a secret that we do it from a brand that, within its philosophy, They have not stopped investigating or working to evolve to the maximum in each collection… And that is the secret that has helped them to place some of their models among the 'Best Sellers' of each season.
If we look back, we will see that more than 5 years ago StarVie has managed to mark a very well defined line that has not only allowed it to adapt to what the market demanded but also has managed to generate trends with technologies, materials and highly recognizable models that will forever be part of the history of paddle tennis.
In this 2020, one of its great bets is the already coveted Star Vie Metheora. It is a padel racket that It comes to evolve its predecessors and, of course, to do so by making a qualitative leap in the most playable power.
Star Vie Metheora stands out for its round format and is designed for advanced players who want power, control and precision with every shot. That is why it has become the official shovel of the professional player Matías Díaz, 'The Warrior', and includes your logo and signature on the map.
A revolutionary model that has a careful manufacture by the Spanish firm. In this case, StarVie bets on a comprehensive carbon build frame to ensure maximum stability and that, in addition, makes this model more resistant and durable, which makes the Metheora a very complete model in every way. Due to its wide sweet spot and medium-high balance, it has a structure that makes it one of the best control blades on the market. because it allows you to play with the directions, the speed and the right weight at all times.
Regarding its technological advances, it should be noted Filava Tech (which will improve resistance and provide durability); Full Balance (which ensures a perfect balance) and, of course the rough effect incorporated in the planes. The latter will allow its user to print the best effects during the match and, as a novelty, it is applied directly to the frame, which raises the action of the rough effect to a differential plane.
Star Vie Metheora: All control in your hands
Once we know how this padel racket has been manufactured, it's time to know what your performance is on the track and what pros and cons amateur players can find.
In defenceThis Star Vie Metheora it has a more than remarkable behavior. There will not be a blow that will resist us ... We will be able to reach all of them and return them correctly ... And it is that at the bottom of the track, given its qualities and benefits, will help players to make an excellent defense.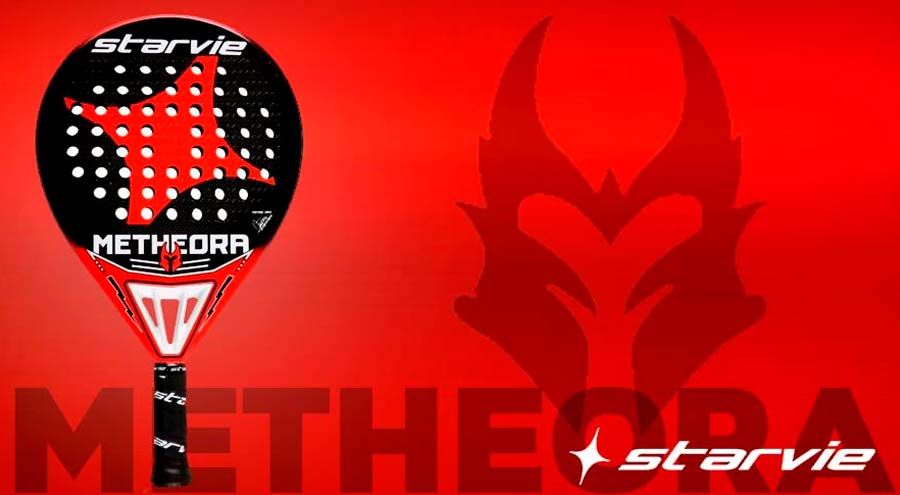 A racket that allows you to have a great ball output -something that is noticeable and appreciated- thanks to Eva Soft rubber, a component that will improve hitting sensations and allow the ball to be felt more, providing a remarkable rebound that gives a plus in those compromised phases of the game, in which it is difficult to control the attacks of the opponents.
A shovel that although he does not suffer at the bottom of the trackGiven its marked character, it will be intended for advanced level players who want to get the most out of all facets of their game.
Once we defend, We have to go to the net and, in it, Star Vie Metheora is aggressive in the volley, in the trays and in vipers. On the other hand, in the auction, if we have the right technique, it will not cost us to get it off the track or bring it back to our side of the field.
Although it is not its main characteristic, in attack Star Vie Metheora Will not leave you indifferent. And it is designed to take advantage of any opportunity, no matter how small, to punish your opponent ... And it will with speed, force and power.
In the volley, this model of StarVie draws attention for its agility and the forcefulness he shows in each hit. On the other hand, it is very stable in the short set, so it generates an efficient, deep hit and loaded with a lot of spin.
Something similar to what happens with the tray. Due to its composition and structural design, Star Vie Metheora allows them to be Finding corners very easily and allows for acceleration capability amazing.
In the auction, as we have already said, if your user knows how to print the strength of his arm in the correct way, he will not have great problems to bring the ball back to his field or even take it out for three. In that sense, it could be said that Star Vie Metheora allow enjoy.
A shovel StarVie It has a very attractive design to arrive feeling like a warrior on the court, which will adapt perfectly to all styles of play since it presents a great balance between power and control.
A Star Vie Metheora that undoubtedly improves on its predecessors and that does what it promises: excellent behavior on the court and a great ball output to attack and defend from any point.
* You can follow all the news of the world of paddle in our profiles of Facebook y Twitter as well as subscribe to our Newsletter .
Comments
comments